Managing Mixed Immunity
and Related Infection Risks
RECORDED WEBINAR
Friday October 6, 2023
Unwrapping the complexity and variety of factors affecting risk of acute and chronic impacts in the context of workplace prevention strategy
Researchers at McMaster University have found that rather than conferring immunity against future infections, infection during the first Omicron wave of COVID left the seniors they studied much more vulnerable to reinfection during the second Omicron wave."We found that some individuals had normal immune responses after the first infection, while others had very low levels of protective antibodies, which we believe was one contributing factor to why they got reinfected," says Dr. Dawn Bowdish, who is corresponding author of the study published in eClinicalMedicine, an open-access journal by The Lancet.The researchers urge people not to assume immunity from a prior Omicron infection and to remain vigilant to prevent further spread of the virus."This research highlights the need for continued vigilance and underscores the importance of ongoing preventive measures against COVID-19, says Bowdish.
Join Professor Bowdish, PhD as she discusses her research and what else is currently known about individual and age group immune susceptibility (and how it can be applied to workplace prevention) with OHCOW host, Cheryl Rook, RN, COHN(C), COHN-S, CRSP, DOHS, an Occupational Health Nurse from the Central Ontario Clinic in Toronto
View Recording
AGENDA
Introduction – Collaboration for A Clean Air Future – Amanda Hu (member of the Canadian Covid-19 School Safety Group)
Australian Experience & Guidance for Primary and Secondary Schools – Brad Prezant, Affil. AIRAH, MSPH, MBA, CIH, COH, CAQP, WELL AP Principal Consultant at Prezant Environmental. Former VP, International Society of Indoor Air Climate and Quality (ISIAQ).
Still Wandering in the Woods – Staff impacts and opportunities, Paul Sylvestre, National Health & Safety Rep, Ontario Region, Canadian Union of Public Employees (CUPE)
The basics of what we all need to know to stay safe into the fall -ASHRAE 241 Part 6, Joey Fox P. Eng. @O_S_P_E IAQ Advisory Group Chair. http://itsairborne.com
How can we make it happen? – 2023 School Safety Advocacy Efforts and Ideas Amanda Hu and other members of the Canadian Covid-19 School Safety Group
Discussion -- All
The event will be hosted by: Kevin Hedges, Ph.D, CIH, COH, Occupational Hygienist, OHCOW Eastern Region/Ottawa Clinic
Register today to join the conversation!
The Conversation will be recorded and streamed on FaceBook.
REGISTER
LATEST RECORDED WEBINAR:
Occ-COVID Conversation: Understanding Post-COVID-19 Condition in Canada
DATE: Friday June 23, 1:30 - 3:00 pm
PHAC Chief Science Officer reports what we know, don't know, and a framework for action: Research, Patient/Family Support & Preparedness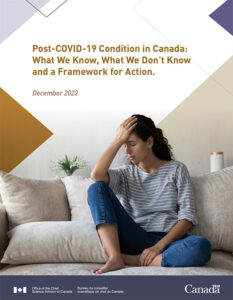 Excerpts from the Report Executive Summary and accompanying letter released March 9, 2023:
As we continue to battle the SARS-CoV-2 virus at a time of widespread collective pandemic fatigue, we now know that COVID-19 manifests as an acute and, for many, a chronic illness. According to Statistics Canada, as of October 2022, 1.4 million adults in Canada have experienced or are experiencing the long-term symptoms of COVID-19. With the pandemic and the virus still spreading, many more Canadians are likely to be affected.
The lingering complex symptoms experienced by a significant number of COVID-19 survivors weeks after infection, "long Covid" or post-COVID-19 condition (PCC) is not a homogeneous disease. Individuals suffer from a wide spectrum of symptoms and conditions ranging from well-defined medical entities, like hypertension and cardiac arrhythmia, to broad or medically undefined symptoms such as cognitive problems ("brain fog"), exhaustion, chronic pain and fatigue.
The impact of PCC goes beyond health. PCC affects the ability to work and perform daily tasks, creating considerable consequences for individuals and communities as well as broader socio-economic impacts.
In Canada, as in other countries, the health care system has been pushed beyond its limits by the pandemic. PCC stands to add further strain on the system due to the increasing number of people requiring health care access due to this new chronic condition. At the same time, a significant number of health care providers are experiencing PCC, which complicates the system as they have difficulty performing their professional duties and seek health care themselves.
We are all in this together. Pandemic management must address the health and socio-economic effects of SARS-COV-2 infection as a continuum over time.
What can we do in workplaces to recognize, assess and control the hazards that contribute to COVID-19 infection and prevent and mitigate the associated harm?
Join the conversation to learn and share experiences and ideas.
Guest Speaker:
Dr. Sarah Viehbeck,
Chief Science Officer, Public Health Agency of Canada and Member, Chief Science Advisor of Canada's Task Force on Post-COVID-19 Condition
Hosted by: Kevin Hedges, Ph.D, CIH, COH, Occupational Hygienist, OHCOW Eastern Region/Ottawa Clinic
See Webinar
See list below for recordings of all Occ-Covid webinars.
Use the following tabs to filter the listing below:
All

2020

2021

2022

clean air

contact tracing

Covid Conversations

Covid-19

Day of Mourning

Engineering

Environment

Filtration

Frontline Workers

Hazard / Control Banding

HVAC

immunity

Indoor Air Quality (IAQ)

Infectious

Masks / Respirators

Occupational Hygiene

Pandemic Experience / Impact

Personal Protective Equipment (PPE)

post-covid

Prevention

Public Health

Risk Factors

Survey Results

vaccination

viral infections