Occupational Illness

EXPOSURES
Smoke from wildfires is a definite concern for both indoor and outdoors workers.
The biggest health concern from smoke is from fine particles (PM2.5) that can irritate or harm eyes and your respiratory system.
There are several things you can do to minimize your risk while at work.
Your employer also has responsibility to do everything "reasonable" to protect you.
Resources:
We are working on developing more resources related to the topic of wildfire Smoke.
Bookmark this page so you can check back here often or follow us on social media to stay up-to-date.
Noise causes noise-induced hearing loss (NIHL). NIHL is the most common work-related illness in Ontario. A workplace can be too loud if people have to raise their voices to be heard, if they have a ringing in their ear at the end of the day, or even if you notice the car radio is louder the next morning. But quiet workplaces can be a problem if there are infrequent but very loud impact noises, too.
Go to NOISE page
Workers can be exposed to diesel exhaust when working near or around diesel engines. Even very low Diesel exhaust is produced by the combustion of diesel fuel. The amount of exhaust will vary widely, depending on the engine, the speed or load, the emission control systems, and for indoor exposures, the ventilation effectiveness. Diesel exhaust is a complex mixture that is confirmed to be carcinogenic (cancer-causing) to humans (IARC Group 1).
Go to Diesel Exhaust Page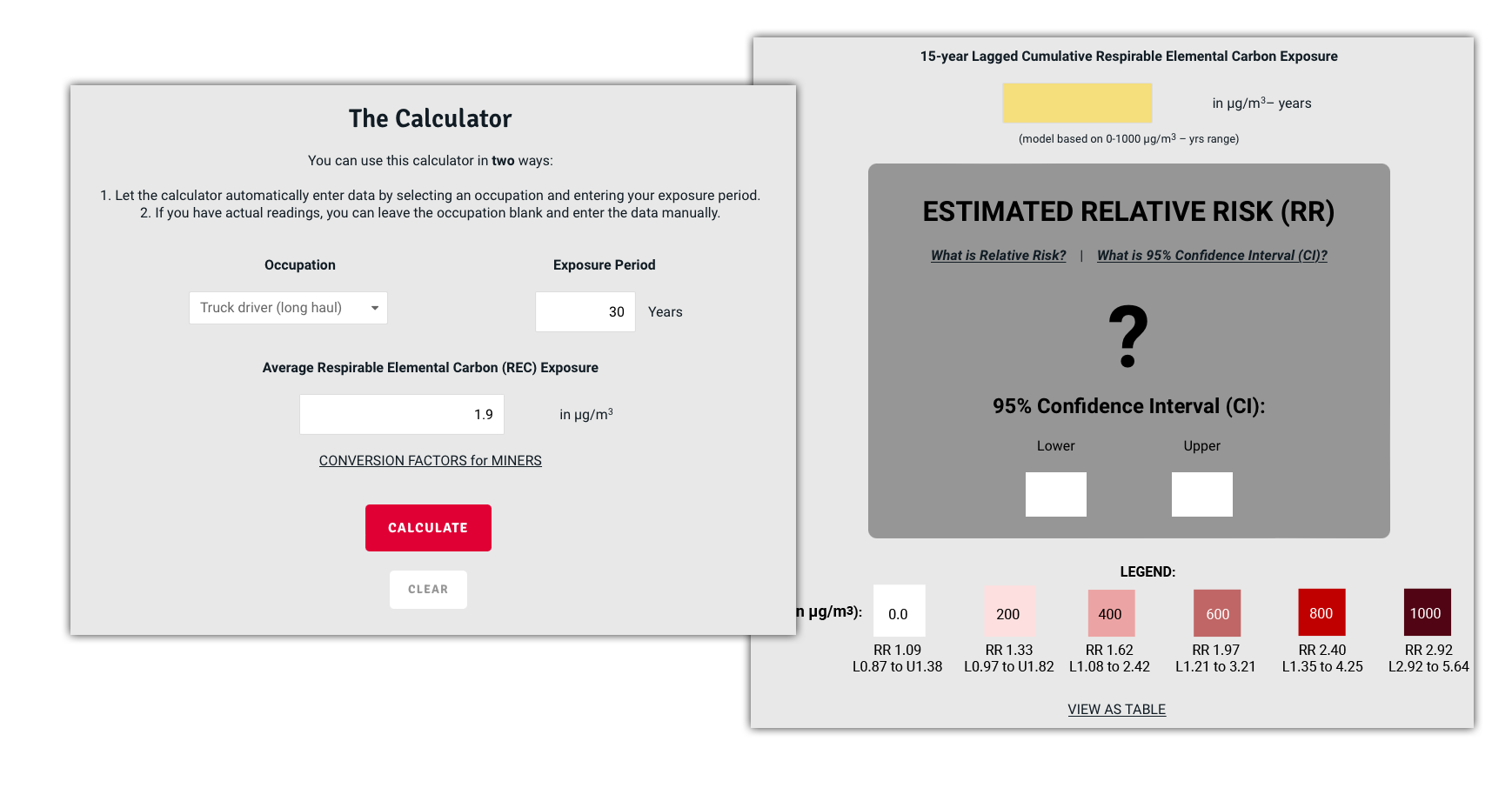 NEW!
Web Version of Diesel Exhaust Lung Cancer Relative Risk Calculator Now Available!
The following resources are also related to diesel exhaust:
Asbestos is a natural occurring fibrous mineral. It was used as a building material and in some fabric materials such as blankets for its fire resistance, chemical resistance, insulating properties. Asbestos use really increased in the late 1800s, and peaked in the 1960s-1970s. It began to be strictly regulated in the mid-1980s. It was not banned in Canada until 2018, though there are many existing building materials that contain it. All forms of asbestos can cause cancer when inhaled (IARC Group 1 carcinogen).
Go to Asbestos Page
Crystalline silica (formula: silicon dioxide) is a naturally occurring mineral found in sand and stone. It is also found in human-made products such as bricks, gravel, concrete, blocks, mortar, glass, and artificial stone. Crystalline silica is often referred to as silica. Most silica is in the form quartz. Silica is hazardous when it is inhaled in the air. It is made airborne through activities such as blasting, crushing, cutting, drilling, grinding, sawing, and similar. Silica exposure can cause silicosis (a pulmonary fibrosis), lung cancer (IARCH Group 1 carcinogen), as well as chronic kidney disease, rheumatoid arthritis, and scleroderma.
LEARN MORE ABOUT SILICA
TAKE ACTION • REDUCE RISK • PROTECT WORKERS

with the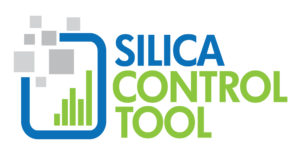 120,000 constructors in Ontario now have automatic access to the Silica Control Tool
Beginning in early November 2023, workers and employers in the Ontario Construction Industry will have full access to the Silica Control Tool™, its associated data, and outputs. The Tool's user interface has undergone a facelift for Ontario and has been fully customized to meet Ontario's health and safety regulation and standards.
Workers are often employed in environments, both inside and outside, that may involve exposure to both cold and heat. Understanding the health risks involved with worker in temperature extremes can help employers prepare and protect their workers. From heat stress (including heat cramps, heat exhaustion, and heat stroke) to cold stress (including frost bite, trench foot, chillbains, and hypothermia), it doesn't have to be as "extreme" a temperature as many expect to have adverse health consequences.
Go to Temperature Page
An irritant is a chemical that causes reversible inflammation or irritation, such as itching, discomfort, sneezing, or coughing. An allergen is a usually harmless substance that triggers an immune system response, ranging from mild (itching, discomfort, sneeze) to severe (anaphylaxis, inducing asthma attacks). Some things can be both an irritant and an allergen, such as mould (mold).
Go to Allergens/Irritants Page
Chemicals can include those are used in the workplace (including cleaning chemicals) and chemicals created in the workplace (including carbon monoxide created by sources of combustion). Chemicals can be managed by WHMIS (Workplace Hazards Materials Information System), but the CCPSA (Canada Consumer Product Safety Act) may also apply for smaller quantities of some chemicals. Chemicals can enter your body by:
Inhalation: breathing vapours, gases, dusts, fumes;
Injection, such as through anything that cuts the skin;
Ingestion: eating food with dirty hands may be the most common way for ingestion to occur;
Absorption: typically through skin, sometimes through eye contact.
Every chemical has different hazardous effects and different safe levels. Always refer to the Safety Data Sheet (SDS) for more information on the chemical's properties, and refer to OHCOW's OEL Adjustment Tool for OELs.
VGDF (Vapours, Gases, Dusts, Fumes)
VGDF (vapours, gases, dusts & fumes) is a broad term for inhalation hazards that have been established to increase the risk of some respiratory diseases, including chronic obstructive pulmonary disease (COPD) and idiopathic pulmonary fibrosis (IPF). VGDF does not have an occupational exposure limit or other maximum exposure, and will not represent a uniform exposure. Instead, VGDF represents the overall exposure to inhaled respiratory hazards. VGDF may be identified in self-reported questionnaires, job exposure matrices, or other qualitative or semi-quantitative measures of inhalational hazards.
Go to Vapours, etc Page
Mould (also spelled as mold) and fungal spores are ubiquitous (everywhere). Fungal spores are typically present indoors by travelling in the air from outdoors. However, mould growth should not be able to establish itself indoors. Mould needs 3 conditions to grow: a growth medium (such as drywall, wood, even dirt), temperature ideally between 20-30oC but can grow from 5-40oC, and moisture. Mould is an irritant and can be an allergen. Mould exposure can occur when there is mould growth indoors, as well as when a mould remediation is occurring.
Go to Mould Page

March 2001
[FACTSHEET]
OHCOW
Covering what moulds are, as well as their location, concerns, prevention, health effects, identification and safe removal of mould in the workplace
METAL DUSTS & FUMES (including MINING, WELDING)
Metal (& metalloid) dusts and fumes are a broad category. Each metal has different properties, and the size of the dust or fume will alter where it deposits in the respiratory tract. In many occupational settings, exposure is to multiple metals at the same time. For instance, nickel mining involves exposures more than just nickel, including: copper, cobalt, gold, silver, among others. Another example is welding, which will always result in a complex mixture of metal fumes that may include beryllium, cadmium, chromium, lead, manganese, zinc oxide, among others.
Go to Metal, Dust and Fumes Page
Occupational Exposure Limit (OEL) Adjustment Tool
Updated August 2021
Based on the model and guide developed by the Institut de recherche Robert-Sauvé en santé et en sécurité du travail (IRSST)
Brought to you by OHCOW, and the Occupational Disease Action Plan Contributors, this tool* allows the calculation of the adjusted workplace exposure limit for an unusual or extended work shift which has been adapted using the methodology set out in the Guide for the Adjustment of Permissible Exposure Values for Unusual Work Schedules (March 2015), published by Quebec's Institut de recherche Robert-Sauvé en santé et en sécurité du travail (IRSST).
This method, used in the Province of Quebec and referenced by the ACGIH and other health and safety organizations, considers toxicological information such as sensitization, irritation, organ toxicity, reproductive system toxicity  and teratogenicity, in addition to exposure and recovery times.
Irregular work shifts are now commonplace in many industries and the standard eight-hour work day/40 hour work week (which has been the basis for the time-weighted average (TWA) occupational exposure limits) is often not the reality. To address this change, exposure standard adjustments have increasingly become an essential component in workplace exposure assessment.
[*XCL document*]
*The file works ONLY if the macro security level of Excel is set to "enable all."
Detailed instructions are provided at the bottom of the Tool's Intro page by clicking on the Important arrow.
If you have questions regarding the OEL Tool, or would like to speak to an Occupational Hygienist for more information regarding exposure assessments or occupational disease prevention, please contact ask@ohcow.on.ca using OEL Adjust Tool in the subject line.
SUBMISSIONS
OHCOW's mission includes a goal to protect workers and their communities from occupational diseases, injuries, and illnesses.
As part of this mission, OHCOW encourages health-based and evidence-based occupational exposure limits (OELs) for chemicals, and equivalent sound exposure level criteria for noise exposure.

OHCOW has produced submissions for Ontario's Ministry of Labour, Immigration, Training and Skills Development (MLITSD), and its predecessor ministries (MLTSD, MOL), to address evidence-based limits for Ontario regulations.