NOISE
Exposure to noise in the workplace is an issue that can have devastating, life-long effects on workers.
We offer the following resources to help you learn more about and better manage noise in the workplace:
Noise-induced Hearing Loss (NIHL) Audiogram Calculation Tool
Updated August 2021
Designed to assess values based on the worker's audiogram to clarify if their NIHL meets the minimum requirement for establishing a NIHL claim with the Ontario Workplace Safety and Insurance Board (WSIB).
DOWNLOAD TOOL
[Fillable PDF]
Noise – Its Effects and Methods to Reduce Exposure
A presentation
Presented by James Miuccio, MSc, CIH
Occupational Hygienist
VIEW PRESENTATION
[PDF]
DIESEL EXHAUST
Worker exposure to diesel exhaust mainly occurs by breathing in the gases and soot, which then enter the workers' lungs.
Repeated exposure to diesel exhaust can lead to lung and bladder cancer and can also cause chronic bronchitis, chronic obstructive pulmonary disease and asthma.
Emissions-based Diesel Engine Maintenance:
Reducing Worker Exposure to Diesel Emissions
A presentation that discusses the history behind emissions-based maintenance (EBM), mining diesel engines, EBM in global mining and implementing EMB.
Presented by Sean McGinn [MKNIZD | Factors]
VIEW PRESENTATION
[PDF]
Diesel Exposure in Workplaces
A recorded webinar that explores the assessment and control strategies for diesel exhaust exposure.
Presented in partnership with CAREX Canada, the Occupational Cancer Research Centre (OCRC) and Ontario's Occupational Disease Action Plan (ODAP) Working Group on Diesel Exhaust.
ASBESTOS
Asbestos exposure can lead to serious health effects such as:
asbestosis   •   lung cancer   •   mesothelioma
Workplace exposure to asbestos is the No. 1 cause of asbestos-related disease.
asbestos.com
Use the following resources to learn more about asbestos exposure in the workplace:
Celebrating the Asbestos Ban in Canada:
and Where to Go From Here
A presentation that provides an overview of how we achieved the Canadian ban on asbestos, identifies the challenges faced and the strategies developed as well as a look towards the future.
Presented by Alec Farquhar, Coordinator, Asbestos Free Canada
VIEW PRESENTATION
[PDF]
Investigating the Need for Asbestos Management Standards
A presentation that includes literature reviews, an environmental scan, interviews with key informants as well as a gap analysis and recommendations.
Presented by Anya Keefe, Paul Demers, Manisha Pahwa, Soham Paraelkar
at the 2020 Occ-tober Symposium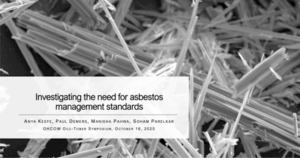 VIEW PRESENTATION
[PDF]
A Quantitative Retrospective Exposure
Assessment for Former Chrysotile Asbestos Miners and Millers from Baie Verte, NL, Canada
An original article from the Annals of Work Exposures and Health, 2020, written by Tina Giles Murphy, Stephen Bornstein, John Oudyk and Paul Demers

Silica Control Tool Pilot Program for Construction Industry
Now Available in Ontario!
In a first for the BCCSA proprietary Silica Control Tool™, a group of workplaces outside the province will begin using the Tool under a 12-month pilot program involving 70 Ontario workplaces, beginning this fall (2021).
Occupational Exposure Limit (OEL) Adjustment Tool
Updated August 2021
Based on the model and guide developed by the Institut de recherche Robert-Sauvé en santé et en sécurité du travail (IRSST)
Brought to you by OHCOW, and the Occupational Disease Action Plan Contributors, this tool* allows the calculation of the adjusted workplace exposure limit for an unusual or extended work shift which has been adapted using the methodology set out in the Guide for the Adjustment of Permissible Exposure Values for Unusual Work Schedules (March 2015), published by Quebec's Institut de recherche Robert-Sauvé en santé et en sécurité du travail (IRSST).
This method, used in the Province of Quebec and referenced by the ACGIH and other health and safety organizations, considers toxicological information such as sensitization, irritation, organ toxicity, reproductive system toxicity  and teratogenicity, in addition to exposure and recovery times.
Irregular work shifts are now commonplace in many industries and the standard eight-hour work day/40 hour work week (which has been the basis for the time-weighted average (TWA) occupational exposure limits) is often not the reality. To address this change, exposure standard adjustments have increasingly become an essential component in workplace exposure assessment.
[*XCL document*]
*The file works ONLY if the macro security level of Excel is set to "enable all."
Detailed instructions are provided at the bottom of the Tool's Intro page by clicking on the Important arrow.
If you have questions regarding the OEL Tool, or would like to speak to an Occupational Hygienist for more information regarding exposure assessments or occupational disease prevention, please contact ask@ohcow.on.ca using OEL Adjust Tool in the subject line.