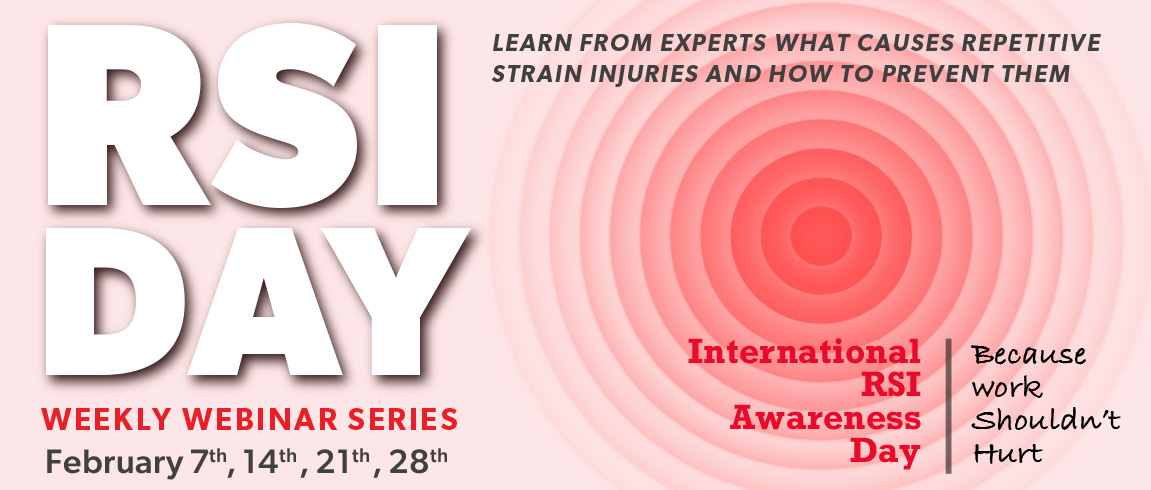 RSI Day 2023 event resources are available to view in the listing below under Previous Sessions.
Repetitive Strain Injury (RSI) refers to a category of injuries involving damage to muscles, tendons and nerves
caused by overuse or misuse.
More workers sustain RSIs than all other occupational injuries combined.
Workplace injuries such as repetitive strain injuries (RSI's) account for:
42%
of all lost time claims
50%
of all lost time days
These injuries are also increasingly being reported by students and others in our communities.
Each year much of Ontario's workforce sustain Repetitive Strain Injuries.
What is both troubling and a source of encouragement is knowing RSIs are preventable.
Repetitive Strain Injury Day, increases awareness of these critical, debilitating issues and serves to educate workers about the hazards and prevention methods.
Use the tabs below to view posts from specific years or related to specific topics:
All

2021

2022

accommodation

air quality

bursitis

Carpal Tunnel Syndrome (CTS)

Chronic Traumatic Encephalopathy

cognitive demands

Concussion

controls

cre/msd

definition

development

Diagnosis

Driving

Ergonomics

force

Functional Abilities Exam (FAE)

gloves

hard hat

Hazard Assessment

hearing protection

industrial hygiene

Injury Prevention

insomnia

job demands

Manual Material Handling (MMH)

Mental Health

muscle biomechanics

musculoskeletal disorder

nerve impingement

neurogenic

Noise-Induced Hearing Loss (NIHL)

Occupational Hygiene

Office Ergonomics

osteoarthritis

pathophysiology

Personal Protective Equipment (PPE)

physical demands

Physical Demands Description (PDD)

posture

Prevention

Psychosocial

Rapid Upper Limb Assessment (RULA)

Recognition

recovery

repetition

Return-to-Work (RTW)

Risk Factors

rotator cuff

RSI Day

Second Impact Syndrome

shoulder anatomy

shoulder muscles

sleep deprivation

sleep posture

sobane

static posture

statistics

Stress

Surveys

Temperature

tendonitis

Thoracic Outlet Syndrome (TOS)

Tools

Vibration

workplace ergonomics

Workstations
If you have questions / comments regarding RSI Day or any of the sessions from above, please contact OHCOW.