The following Ventilation Checklist can be used as a guide to assess and improve ventilation in rooms and buildings. It is recommended for Joint Health and Safety Committee members, Health and Safety Representatives, Managers, Supervisors and Workers since everyone has an interest in clean air as a part of a healthy workplace. 
Pertinent questions are suggested that can be used to assess the suitability of ventilation in the workspace/building that is to be occupied. It follows the traditional health and safety R.A.C.E. framework:  Recognize • Assess • Control • Evaluate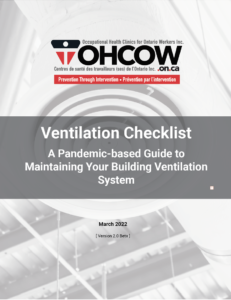 IMPORTANT NOTE
This OHCOW Ventilation Checklist v. 2.0, is being released as a BETA version.
As such, we welcome your feedback and can adjust this guidance after it has been applied to assess and improve ventilation in your workplace.
Please provide your feedback about modifications / improvements to Kevin Hedges (khedges@ohcow.on.ca) so that improvements can be made, and that the guidance provided is both iterative and practical with continuous improvement.