Office Ergonomics Reference Guide
Section 8
REMOTE (MOBILE) WORKSTATION SETUP
While working remotely, or utilizing a mobile workstation, the following should be considered:
---
Work Area
• Choose a dedicated workspace where an office desk environment can be replicated as closely as possible.
• Select a work area that is private, quiet, and preferably away from areas of high traffic flow.
• Ensure the work area has sufficient lighting.
(See Additional Considerations – Lighting).
• Adequate power supply should be available for all required equipment.
---
Work Surface
• Should be solid enough to support all of the equipment and materials the user requires.
(See Work Surfaces – Workstation Configurations).
• An acceptable remote work surface may be a desk, table, counter top (as long as it fits the desired requirements), workbench, etc.
• Should be positioned in order to utilize the available light source optimally
(See Additional Considerations – Lighting).
---
Chair
• A fully adjustable office chair should be utilized if possible
(See Chairs).
• If a fully adjustable office chair is not available, try a variety of chairs or sitting devices to see which one fits best.
• Be sure the chair has a stable base and a backrest.
• The height of the chair should attempt to place the elbows at or slightly above the work surface while maintaining a neutral sitting posture.
• If the chair fit deviates substantially in depth, height, width, or overall size from that required by the user, the chair fit should be modified by using external materials: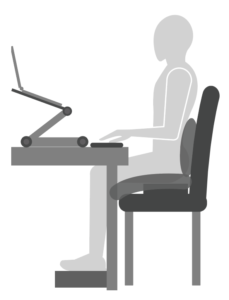 – If the chair height is too high, the user should utilize a footrest (or a modified footrest such as a box or crate) to obtain neutral sitting postures.
(See External Equipment and Accessories – Footrests).
– If the seat pan is too large, placing soft cushioned materials (such as pillows, towels, etc.) between the user and the backrest will bring the user forward.
---
Remote Work Additional Considerations