Injury Prevention
Prevention programs are a proactive way to find and fix workplace hazards before workers are injured or become ill. These programs can be effective at reducing injuries, illnesses, and fatalities.
Workplace Ergonomics, Musculoskeletal Disorders and Work Environment are all key topics of the prevention picture.
Background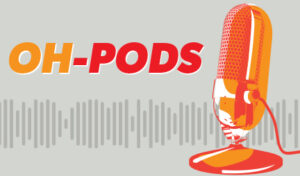 The onset of the COVID-19 pandemic led to people spending more time interacting with technology and less time interacting with other people. This continual interaction with technology such as computers, tablets, and cellular telephones has led to "technology burnout". Since people were spending so much time viewing their screens to perform their work, they began to decrease use of their screens for other things such as their own personal Health and Safety education.
Due to this, the Ergonomists at OHCOW recognized that they needed to find an alternate way of providing Ergonomics education to people.
What Has OHCOW Done about it?
The OHCOW Ergonomics Podcast Series was created to provide a "non-screen" option for people to continue to educate themselves about injury prevention through the implementation of Ergonomics strategies.
To this point eight Ergonomics related podcasts have been created and posted for all to hear. Many of the podcasts are also accompanied by an information sheet that may serve as a useful printed reference.
Ergonomics Podcast Series
Lawn Care: Safety and Ergonomics
Ergonomics and Working in the Heat
Back to School: Ergonomics for Educators & Students
Ergonomics of Fall Yard/Garden Chores: Preparation for Winter
The Role of a MLITSD Ergonomist
OHCOW Impact
By creating an auditory educational option that people listen to without having to view a computer, tablet, or cellphone screen workers of Ontario can still learn about ergonomics while avoiding "screen burnout".
RSI in the Workplace
The event this year was the most successful RSI Day event that the Occupational  Health Clinics for Ontario Workers (OHCOW) has hosted in the event's 24-year history.  Since 2021, the RSI Day webinar has been altered from a full one-day event into a four-week 2-hour webinar series for the entire month of February. Each week consisted of a different theme to address multiple issues relation to Ergonomics and musculoskeletal disorders. 
Registration for the session combined was greater than any previous year. The total registration for all four sessions combined was 4,288.  Due to factors such as time differences and scheduling many of the registrants are unable to attend the sessions live, and instead wait for notification that the session recordings have been uploaded to the OHCOW YouTube channel.
Previously for the RSI Day events, registrants were emailed a link to an evaluation after the session had ended. This year, during the live sessions, we piloted the use of Slido to conduct an evaluation for each session in real time. In addition, to ensure we were gathering all possible responses registrants were also emailed a link to the evaluation if they were unable to attend live and were viewing the session on OHCOWs YouTube channel. Overall, Slido had a 58.6% response rate when averaged across the four sessions compared to the previous year (31% response rate) when the evaluation was emailed. 
Take a look at an extensive summary of the feedback and evaluation of the 2023 RSI Day event: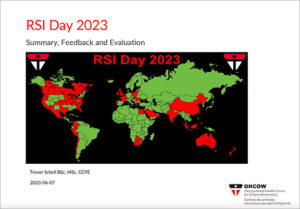 See the webinars:
RSI Day 2023 Week 1 – Concussions in the Workplace
RSI Day 2023 Week 1 – Four E's of Shoulder Injuries
RSI Day 2023 Week 2 – Ergonomics and Sleep
RSI Day 2023 week 2 – Implications of Indoor Environment Quality in an Office Setting
RSI Day 2023 Week 3 – Review of and New Directions for OHCOW's PDD Handbook
RSI Day 2023 Week 3 – Women's Experiences with Personal Protective Equipment
RSI Day 2023 Week 4 – Job Demands: Physical and Cognitive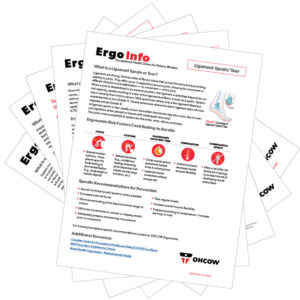 OHCOW Ergonomists have been working on a series of Ergo Info Sheets addressing different types of ergonomic hazards and ways to prevent them. Titles include: Bursitis, Ligament Sprain and Tear, Carpal Tunnel, and more. See the list here.
Special topics aimed at Temporary Foreign Agricultural Workers (TFAWS) are available in English and the Thai language.
Spring Into Action: Presentation by Kevin Hedges
Spring Into Action was a joint event with OHCOW and the Ottawa & District Labour Council.  It was a 3 part conference taking place Friday, April 14, 2023 from 9 a.m. to 12 p.m.. OHCOW Hygienist Kevin Hedges was one of the presenters, whose webinar, BREATHING CLEANER AIR is as important as drinking clean water – what can we do? addresses the need for well ventilated public and private spaces.