Tools and Resources
OHCOW continues to develop helpful and informative tools and resources for use by our clients in improving their workplace situation.
Apps, Tools and Calculators
The Danger of Exhaust Fumes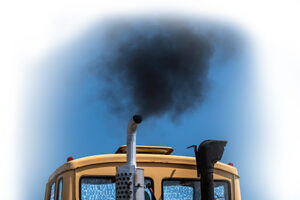 This calculator was created by OHCOW in response to the accumulating scientific evidence pointing to the risk to human health from Diesel Engine Exhaust (DEE) exposure. Using the calculator, people are able to determine their risk of developing lung cancer from inhaling DEE. Such knowledge can lead to prevention measures, such as choosing cleaner methods, diverting or reducing the substance at the source or the use of Personal Protective Equipment.
The evidence cannot be ignored. The International Agency for Research on Cancer (IARC) has concluded that DEE is a cause of lung cancer (Group 1: carcinogenic to humans). CAREX Canada estimates that approximately 897,000 Canadians are currently exposed to diesel engine exhaust at work. Approximately 2.4% (OCRC) to 6% (Vermeulen et al 2014) of annual lung cancer deaths may be due to DEE exposure.
Combined data from three U.S. occupational cohort studies including more than 40,000 workers in the trucking and mining industries (Vermeulen et al 2014) have provided a powerful estimate of the risk of lung cancer based on the level and duration of exposure to DEE.  The truckers' study Garshick et al. (2012) and miners' studies Silverman et al. (2012), (Attfield et al. 2012), (Stewart et al. 2010) combined, allows for a determination of the risk of lung cancer based on the level of exposure to diesel particulate matter (DPM).  DPM measured as elemental carbon (EC) is the best surrogate of exposure.
The tool requires either an estimate of exposure, as EC (NIOSH 5040) and duration of exposure. Where the only measures available are total carbon (NIOSH 5040) or Respirable Combustible Dust (RCD) conversion factors have been provided.
OHCOW recommends the use of a calculator tool to determine risk levels for inhaling toxic substances such as DDE.
Brought to you by OHCOW, and the Occupational Disease Action Plan Contributors, the Occupational Exposure Limits (OEL) Adjustment Tool allows the calculation of the adjusted workplace exposure limit for an unusual or extended work shift which has been adapted using the methodology set out in the Guide for the Adjustment of Permissible Exposure Values for Unusual Work Schedules (March 2015), published by Quebec's Institut de recherche Robert-Sauvé en santé et en sécurité du travail (IRSST).
This method, used in the Province of Quebec and referenced by the ACGIH and other health and safety organizations, considers toxicological information such as sensitization, irritation, organ toxicity, reproductive system toxicity and teratogenicity, in addition to exposure and recovery times.
Irregular work shifts are now commonplace in many industries, and the standard eight-hour work day/40 hour work week (which has been the basis for time-weighted average [TWA] occupational exposure limits) is often not the reality. To address this change, exposure limit adjustments have increasingly become an essential component in workplace exposure assessment.
In addition to providing adjustment for Ontario compliance limits, OHCOW used its own research, data published by GESTIS and the ACGIH to assist in determining the lowest exposure limit easily accessible for occupational hygienists, advanced JHSC members or workers with additional training. These limits vary by jurisdiction, and are published by a number of different governments or private organizations. The limits reflect the understanding and interpretation by those jurisdictions of the science used in determining a limit for workers.
This tool is intended to provide knowledge translation in a user-friendly manner. It is the user's responsibility to fully understand the limitations and application of the adjusted OEL to their workplace scenario and exposure/risk assessment. Results must be used with caution, as they are simply a guide and any misuse may affect the health and safety of workers in their respective workplaces.
A guidance summary has been prepared to allow the user to review the health-based limit proposed and in the case of limits proposed by OHCOW reference to research used in determining the limit.