Occupational Health Clinics for Ontario Workers Inc.
Annual Report
2022/23

VISION
the

detection

, prevention and elimination of occupational disease, injuries and illnesses; and
the promotion of the highest degree of physical, mental and social well-being for all workers.
MISSION
protect workers and their communities from occupational disease, injuries and illnesses;
support their capacity to address occupational hazards;
promote the social, mental and physical well-being of workers and their families;
We strive to accomplish this through:
Identification of workplace factors which are detrimental to the health and well-being of workers;
Empowering workplace parties to make positive occupational health changes in their workplace;
Providing information, knowledge and organizational skills to the workplace parties to eliminate work practices that cause injury, illness and disability.
Officers and Directors
OHCOW's Board of Directors is an appointed group of diverse individuals, chosen to represent the stakeholders we serve.
Our Board of Directors guides our strategic direction, while our leadership team carries out the Board's mandate.
David Chezzi
President and Chair of the Board,
Canadian Union of Public Employees (CUPE)
Tracie Edward
Vice-President and Vice-Chair of the Board,
Elementary Teachers' Federation of Ontario (ETFO)
Scott Richardson
Treasurer,
Chair, L.A.C. Southwest Region
UNIFOR
Bob DeMatteo
Secretary,
Ontario Public Service Employees Union (OPSEU)
Natasha Luckhardt
Member-At-Large
Ontario Federation of Labour (OFL)
Local Advisory Committee (LAC) Chairs
Scott Richardson
L.A.C. Chair – Windsor
Treasurer of the Board, Injured Worker Advocate,
UNIFOR
Russ Archibald
L.A.C. Chair – Hamilton
Teamsters Rail Conference
Laura Lozanski
L.A.C. Chair – Ottawa
Canadian Office and Professional Employees
Union (COPE) Local 225
Andréane Chénier
L.A.C. Chair – Sudbury
Canadian Union of Public Employees (CUPE)
Diane Parker
L.A.C. Chair – Thunder Bay
Ontario Nurses' Association (ONA)
Sylvia Boyce
United Steel Workers
Mark Ellerker
Hamilton Brantford
Building Trades
Alan Warrington
O.N.A
Region 5, Vice-President
Debora De Angelis
U.F.C.W. National Rep
Gavin Jacklyn
Ontario Professional Firefighters Association
Janet Paterson
Thunder Bay District Injured Workers Support Group
Ontario Network Injured of Worker Groups (ONIWG)
Rona Eckert
CUPW
John Bartolomeo
Workers' Health and Safety Legal Clinic – Community Member
Vinay Sharma
UNIFOR
NON-VOTING
Michael Roche
CEO – OHCOW
Catherine Petch
Canadian Union of Postal Workers
CUPW
Toronto
Ron Collie
SEIU Healthcare
Inderdeep Sidhu
Workers United Canada
Monia Kosciejew
Prevention Link
Andrew Falotico
ATU
Joe Bishop
Teamsters
Manjit Parmar
CUPE
Eddy Grisolia
retired OWA / community member
Loreen Gale
ETFO
Bhagwant Virk
York University
Kristyn Owers
ETFO
Hamilton
Russ Archibald
Hamilton LAC Chair
TCRC, PLBO
Bruce Allen
Community, Niagara District Labour Council
Roxanne Bond
ATU, Brantford District Labour Council
Rob Butler
Community
Phil Hames
PWU
Ron Wells
USW
Jody Jones
OFL
Leigh Kittson
Teamsters Rail
Sarah Neath
UFCW, Guelph District Labour Council
Peter Page
Hamilton District Injured Workers Group
Gillian Surette-Robinson
UWHH
Kevin Waycik
Hamilton Firefighters
Ottawa
Laura Lozanski,
Ottawa LAC Chair
Canadian Office and Professional Employees Union (COPE) Local 225
Lee-Anne Feltham
Ottawa LAC Vice-Chair
Elementary Teachers' Federation of Ontario (ETFO)
Kim Monette
Ottawa LAC Recording Secretary
Workers Health & Safety Centre
Marc Beland
Public Service Alliance of Canada (PSAC)
Mackenzie Daybutch
TOH-Indigenous Program Coordinator
Lisa Gifford
Brockville Labour Council
Paul LaHaise
Algonquin College
Louise Lanctot
Cornwall District Labour Council
Richard Leblanc
United Steelworkers (USW)
Jeff Leiper
City Counsellor
Sean McKenny
Ottawa District Labour Council
Olivier Melanson
CUPE
Debbie Scrivens
Community Representative
Erin Smith
Labour WSIB Representative – Local 503
Ben Treidlinger
Renfrew Labour Council
Cheryl Baker
Occupational Health Clinics for Ontario Workers (OHCOW)
Windsor
Scott Richardson
Windsor LAC Chair

Frank Butler
Workplace Health and Safety Centre (WHSC)
Norbert Wenzel
Paralegal – WSIB – Human Rights – Employment Law
Tish Glenn
CUPE 630
Doug Boughner
UNIFOR
Larry Girard
WOHIS
Cathy Baker-Wiebenga
UNIFOR Local 127
Barb St. Pierre
Community Member
Sarnia
Bill Hicks
UNIFOR
Sandra Kinart
VOCV (Victims of Chemical Valley)
Michele LaLonge-Davey
VP CUPE 1238
Kim Marshall
WHSC
Ted Hext
UNIFOR
Kristina Lee
Community Member
Chad Hogan
LIUNA
Blair Allin
Boilermakers Local 128
Thunder Bay
Diane Parker
Thunder Bay LAC Chair
Ontario Nurses' Association (ONA)
Audrey Gilbeau
Nokiiwin Tribal Council

Chris Nicholas
Summit Pipeline Services

Eugene Lefrancois
Thunder Bay and District Injured Workers Support Group

Rod McGee
Ontario School Board Council of Unions

Vicki Kristman
Lakehead University

Janet Patterson
Jules Tupker
Thunder Bay Health Coalition

Catherine Hickmen
OWA
Sudbury
Andréane Chénier
Sudbury LAC Chair
CUPE
Andy LaDouceur
United Steel Workers
Christine Kelly
CUPW
Donna Campbell
Worker Representative
Reuben Roth
Laurentian University
Dwight Harper
Worker Representative
Lorie St. Amand
OPSEU
Debbie Lemieux
Community Member
Jamie West
Community Member
Sean McMahn
Community Member
Elie Martel
Community Member
Michal Seguin
Employer Representative
Susan Hart
OWA
Top 25 Exposures
Based on the International Classification of Diseases (ICD)
April 1, 2018 to March 31, 2023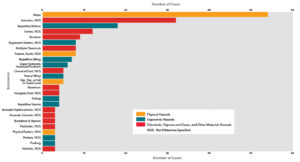 International Classification of Diseases
April 1, 2018 to March 31, 2023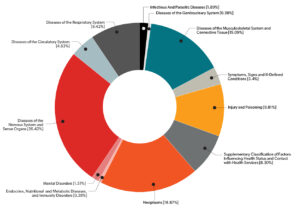 Case Studies
It is critical to be able to identify workplace exposures, past or present, and how they affect the health of workers.
Recognizing causal relationships allows for the ability to support claims when warranted, but more importantly, to advise workers, workplaces and even industries on how to prevent such exposures in the future.
The following case studies from 2022/23 illustrate how OHCOW multidisciplinary approach is used to help workers:
Ontario Nurses Association (ONA) Annual Health and Safety Caucus – Knowledge Transfer on Respiratory Protection and How to Influence Organizations to Push for Improvements
Background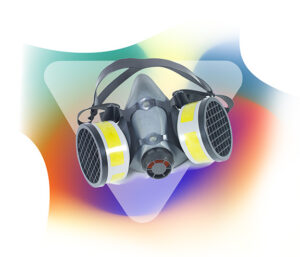 OHCOW was asked by the Ontario Nurses Association (ONA) to develop and deliver an information session on the importance of respiratory protection in the workplace, and help employers implement and monitor its effectiveness during the pandemic and beyond. The goal was to enable nurses to ensure that health care facilities had respiratory protection plans in place – plans that would be updated annually. Nurses would have access to much needed protective equipment and training on its proper selection, use, care, and storage.
Intervention/Approach
Three OHCOW hygienists, one PSHSA hygienist and a long-standing member of the CSA standards group for respiratory protection collaborated to design, develop, and deliver a three hour information session. This would be part of the ONA annual Health and Safety (H&S) caucus in May 2022 at the request of the ONA H&S specialist.  OHCOW worked with ONA to meet their requirements in addressing the topic that would be applied both during and after the pandemic.
There were five sections to the presentation. Topics included the definition of a Respiratory Protection Program, a discussion of the components of a program, the selection and type of respirators (N95, Powered Air Purifying Systems, elastomerics) required for infectious disease, the relevant standards (e.g., NIOSH, Health Canada, etc.), and the JHSCs role in relation to the program.  The five sections delivered were:
What is a respiratory protection plan (RPP)/review existing examples
CSA standards on respiratory protection (RP)
How to convince members that they need to push for an RPP
Hierarchy of controls in the context of RP
How to advocate for improvements to RP and who is responsible
OHCOW Impact
The team delivered five sessions throughout May, covering all ONA geographical regions in Ontario. A session was also delivered in June to Labour Relations Officers.  Over 550 ONA members (including leaders) participated in the sessions. More than 90% of the overall satisfaction surveys completed indicated either 4 or 5 out of 5 (agree or strongly agree) for their evaluations.
OHCOW's knowledge transfer contributed to heightened awareness of recommended respiratory protection practices (including device selection) among nurses, mitigating the potential for viral transmission from infected patients and co-workers. The information will also help to protect nurses from additional inhalation hazards (chemical, radiological and biological) in the workplace.
Background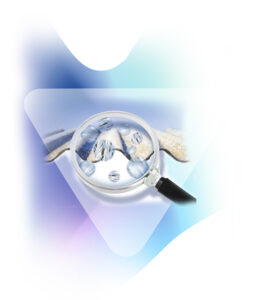 The worker was employed in various jobs at a mining process plant, copper refinery, nickel refinery, welding factory and a smelter from 1968 to 1985. Asbestos exposure was a factor in various duties over the years, such as dry insulation removal and cleanup in high risk areas, at a time when asbestos control practices were not in place. The worker filed for compensation after being diagnosed with rectal cancer, but In 2017 the claim was denied. The worker passed away in 2018 at age 68. His estate continued with the claim.
The WSIB refused the entitlement on the basis that the worker's exposure did not meat the criteria for "repetitive" as it is defined in the Operational Policy Manual. The worker's history of tobacco and alcohol use, as well as a non-work related health condition, was believed to play a larger role in his cancer.
The worker's estate launched an appeal, and both they and the employer submitted material to the Appeals Tribunal. An appeal of the decision was allowed.
Intervention
The worker's estate obtained a medical opinion from OHCOW that challenged the original WSIB review on which the rejection of the claim was based. The WSIB had claimed that the exposure of the worker was not repetitive which is defined as "daily" or "3-5 times per week", and the exposure must be a major component of the occupational activity. OHCOW hygienists claimed the WSIB "underestimated [his] overall retrospective asbestos exposure."  Their re-evaluation included exposure estimates from positions he had held that had been overlooked in the initial WSIB review. The worker's "continuous and repetitive exposures to asbestos…routinely, continuously and repetitively exceeded the current TWA Limit." These high exposures would have resulted in "lung overload, resulting in an increased ingestion of asbestos fibres…." In this light, the worker's exposure levels did indeed meet the criteria for "repetitive" and that the exposure had "materially increased his probability of developing rectal cancer."
The researchers also obtained another opinion from a doctor of occupational medicine, who submitted that while smoking and alcohol consumption did slightly increase his risk of rectal cancer, workplace exposure to asbestos was more likely the cause of the cancer.
OHCOW Impact
The panel found the initial WSIB report was not based on a full understanding of the nature of the various occupational exposures to asbestos that the worker may have had from 1968 to 1985. They preferred the opinion of the OHCOW Occupational Hygienists and determined that the worker meets all of the eligibility requirements for entitlement to benefits.