StressAssess Survey Tool and App
Workplace Edition
StressAssess Workplace Edition is a free, evidence-based online survey tool designed to assist workplaces in identifying psychosocial hazards that can lead to stress and mental injury, providing suggestions and pathways to address them, and thus preventing harm.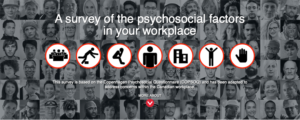 StressAssess is simple to use, fosters a team approach, and includes a Wizard to support preparation, implementation and subsequent problem solving.
StressAssess is particularly timely given the recognition of Chronic Mental Stress as compensable in Ontario as of January 1, 2018.
Plus, reducing stress and promoting Workplace Mental Health is good business on many levels.
The StressAssess Survey is based on the latest version of the internationally recognized Copenhagen Psychosocial Questionnaire (COPSOQ III),
along with additional questions generated by the OHCOW (and partner) developed Mental Injury Toolkit.
The survey compares workplaces against a validated Canadian dataset generated by Ekos Research
under the direction of OHCOW and the Institute for Work and Health in 2016*.
Visit the Stressassess Page.