Glove Size Calculator
Measuring instructions and comparison chart to assist you in determining proper sizing for work gloves
Wearing the proper sized gloves is an important step in preventing injuries.
Poor fitting gloves can:
• increase the amount of force required by the muscles
• cause pressure on the hands
• limit dexterity
• increase perspiration
• reduce productivity
The one-size-fits-all approach to gloves does not work when you're dealing with a physically diverse work force.
Follow these three simple steps to determine the best size of work glove for you:
Rest your hand on a flat surface.
Measure from the tip of the longest finger to the crease under the palm with a metal or cloth measure tape.
Record the measurement.
Use a cloth measuring tape.
Measure your dominant hand.
Place the beginning of the measuring tape (at 0 in.) just above the inside of your thumb, in the crevice between your thumb and your index finger.
Wrap the measuring tape all the way around your palm (from it's starting point above your thumb to the outside of your pinky finger and back again).
Check where the measuring tape overlaps itself at the starting point.
Record the measurement.
Compare the largest of your two measurements taken above, to the table below to determine your ideal glove size.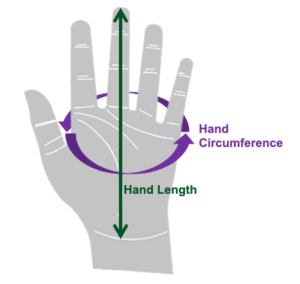 Glove Size Determination Charts
LARGEST ESTIMATED VALUE
GLOVE SIZE
Imperial
(Inches)
Metric
(mm)
Classification
<7
< 177.8
XS
7.01 to 8.0
178.1 to 203.2
S
8.01 to 9
203.5 to 228.6
M
9.01 to 10
228.9 to 254.0
L
10.01 to 11
254.3 to 279.4
XL

> 11.01

> 279.7

XXL
LARGEST ESTIMATED VALUE
GLOVE SIZE
Imperial
(Inches)
Metric
(mm)
Classification
<6
< 152.4 cm
XS
6.01 to 6.5
152.7 to 165.1
S
6.51 to 7.5
165.3 to 190.5
M
7.51 to 8.0
190.8 to 203.2
L
8.01 to 8.5
203.5 to 215.9
XL

> 8.51

> 216.1

XXL
* Gender is based on the gender of the subject at birth