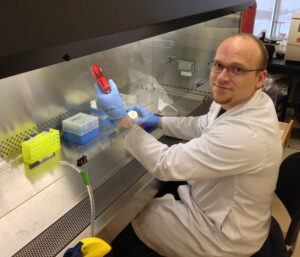 OHCOW is proud to announce that Dr. Andrew Zarnke, OHCOW Project Director, has successfully defended his PhD thesis in Human Kinetics from Laurentian University – Université Laurentienne. For many years he has been a part of an interdisciplinary team as part of the ongoing occupational disease cluster work with McIntyre Powder-exposed mine workers. His thesis title, presented on July 17, is "The Physiochemical Characteristics of McIntyre Powder and the Impacts on Cardiovascular Disease among a Cohort of Ontario Underground Mine Workers."
This important research is invaluable to the understanding of miners' occupational hazards due to exposures, in Ontario and beyond. You can view his presentation in the below video.
Congratulations Andrew, and thank you for your dedication and commitment.