Providing Colour-Coded COVID-19 Prevention Advice
Regional Risk Tool/Tips
View the rolling 14-day average of COVID-19 cases in each Public Health region in Ontario (from data published weekdays) against a backdrop of 5 coloured risk levels, plus a current At a Glance chart, then follow the coordinated tips for Communicating, Cleaning, Handwashing, Ventilating, Distancing, Screening, and Masking to protect your workplace from infection.
A great way to get prepared and then respond if/when transmission risk grows in your Region.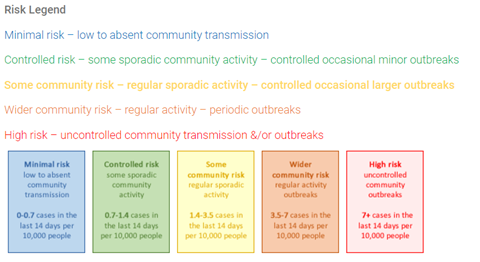 ---
Workplace COVID-19 Risk Management (Control Banding) Matrix
A communication and education tool based on the US OSHA Risk Levels, aligned with the Hierarchy of Controls (reinforcing that "higher order controls" (eg. distancing and ventilation) are much more effective than personal protective equipment when managing the risk of infection from an aerosol transmissible disease like SARS-COV-2). And reminding that the degree of infection protection control (IPC) should be commensurate with the level of risk in order to help support decisions on risk management and control.
As the risk for infection gets higher, for higher risk jobs, such as health care workers (HCW) working near COVID19 patients; it is even more important that more emphasis be placed on engineering and administrative controls, not just PPE.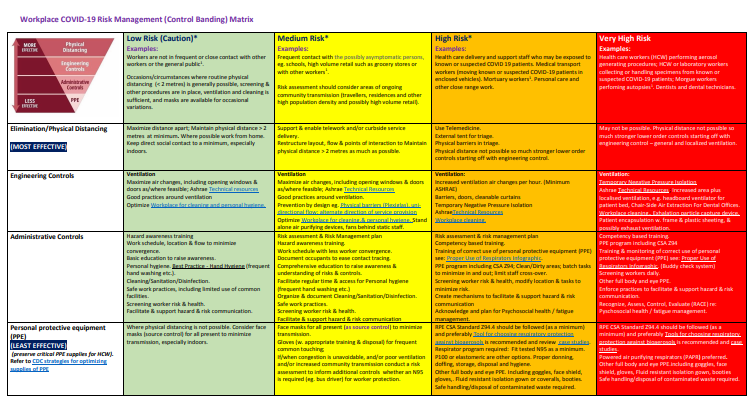 ---