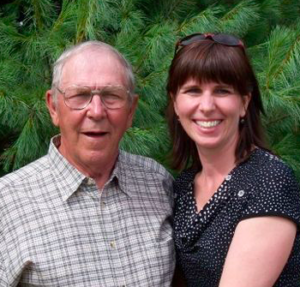 Janice Martell, daughter of the late Jim Hobbs, founded the McIntyre Powder Project (MPP) to provide a centralized place for miners or other workers exposed to aluminum dust to voluntarily register and document health issues.
Her father Jim worked underground in nickel and uranium mines in northern Ontario, Canada between 1959 and 1990. In 1978 and 1979, he was required by his employer to inhale finely ground aluminum dust known as 'McIntyre Powder' prior to each mining shift, as a preventative measure (prophylaxis) against silicosis.  In 2001, Jim was diagnosed with Parkinson's.
When I asked Dad why he went into mining, he said "because I had 4 kids to put through school".  He didn't get the chance to finish his education, but he made sure that all four of his children (Charlene, Linda, Janice, and Jim Jr.) did. As for me, it was intolerable to watch Dad struggle with Parkinson's and horrifying to learn that he had to inhale aluminum dust, against his will and under threat of his job. He gave his life for us. Pursuing answers about the health effects of McIntyre Powder and providing Dad and other miners with answers and acknowledgment of what was done to them is the least I can do for him.
OHCOW's work on the McIntyre Powder cluster has given dignity and voice to the lives of those miners and their families, for which I will always be grateful.