Back to School: Ergonomics for Students and Educators
It's not necessarily growing pains!
Students are being exposed to ergonomic risk factors during key periods of physical growth which may lead to the development of musculoskeletal disorders (MSDs).   The range of body sizes, strength capabilities, and cognitive characteristics among students need to be considered when purchasing equipment and designing workstations.
Backpacks
Factors contributing to MSDs from backpacks include weight, transport duration, and additional items carried.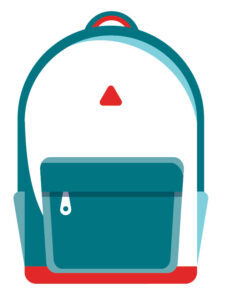 What to look for when purchasing a backpack?
Appropriate Size
Padded and adjustable shoulder straps
Waist and chest straps
Multiple compartments to position weight evenly
Proper Use:
Use both straps when carrying
Ensure straps are tight
Pack only essential items
Load heaviest items first
Technology
Musculoskeletal pain and discomfort among youth has been associated with the use of smartphones, tablets, and laptops. Students are being exposed more frequently to these forms of technology both inside the classroom and out. When using these items, it is important to:
Keep in mind neutral postures by assessing working heights and positioning tablets and phones accordingly
Vision
Increased use of technology may lead to eyestrain, headaches, blurred vision, dry or red eyes, double vision, and light sensitivity.
What can caregivers and educators do?
Teach children to not sit too close to the monitor and take frequent rest breaks.
Get regular eye tests
20-20-20 Rule
Furniture
Students have the most fluctuating body dimensions which makes accommodating each child's growth needs extremely difficult.  Adjustable furniture is preferred but often it is not feasible.
Flexible seating arrangements promote movement and help students focus
Alternative seating – stools, floor, etc
Create stand up work area
Chairs:
Use pillows to provide support, comfort, and increase the working height to allow for neutral postures
Uses boxes or stools as a footrest
Encourage Movement
Movement aids both physical and mental components of learning
Everyone should move a minimum of once per hour
Incorporate movement into lessons
Teachers
Wear supportive footwear and use anti-fatigue matting while standing
Use fully adjustable chair and set up desk area Ergonomically correct
Remember
• We can't always control the setup and use of equipment at school but we can at home
• Teaching students proper setup at home may transfer over to the school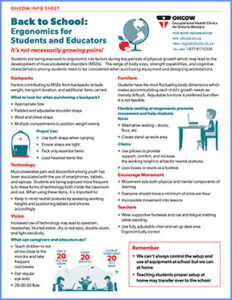 Everything from carrying a backpack to eyestrain from screens to school desks can cause injury.  Get the facts with this detailed info sheet.
Back to School: Ergonomics for Students and Educators
This info sheet accompanies the Oh-Pods Podcast on the same topic.