Noise-Induced Hearing Loss (NIHL)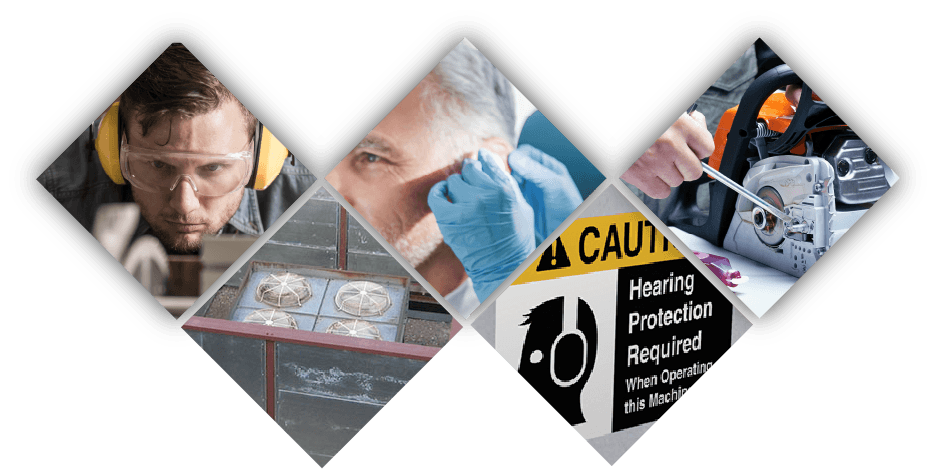 We experience noise and sound in our daily life, normally at a safe level that does not damage our hearing.
However, sound can be extremely harmful when at too high a frequency and when experienced over a long period.
Statistics show that over 40% of men aged 60-69 have a significant loss of hearing.
About half of these disabilities have been caused by too much noise exposure in the workplace.
Due to the occupational risk of noise exposure, Ontario government standards have been implemented regulating the amount of noise workers can be exposed to.
July 1, 2016, the Ontario Ministry of Labour expanded the coverage of noise regulation for all workers in Ontario.
These changes will provide an opportunity for workplaces to renew their efforts to reduce noise exposures and thus prevent the ill effects associated with excessive levels of noise.

PREVENTION
The following methods can be used to reduce or control noise levels in a workplace:
SOBANE Approach
A Different Approach to Solving Health and Safety Concerns
This information is based on materials produced by Jacques Malchaire (Belgium).
SOBANE is an acronym for
Screening    •    OBservation    •    ANalysis    •    Expertise
It represents an approach to solve the workplace health and safety problem which stresses providing an appropriate level of expertise.
Malchaire estimates that up to 80% of concerns can be addressed in the Screening and Observation stages.
Screening is the shop-floor level where workers and supervisor recognize hazards and deal with them directly.
OBservation is the next level up, where simple assessment tools are used to evaluate the seriousness of the hazard and make recommendations for improvement – the Health & Safety Committee/Representative and coordinator level of expertise (a few hours of training with practical experience).
The Analysis level implies specialists with formal training in occupational hygiene and/or ergonomics.
Expertise refers to recommendations provided by experts (usually outside consultants) with highly technical knowledge to resolve particularly difficult control problems.
The philosophy behind the SOBANE approach is that the lower levels are supported by the higher levels
in their practical efforts to resolve health and safety issues.
Ideally the majority of health and safety issues can be resolved on the shop floor with the health and safety committee/representative and coordinators only getting involved when the shop floor parties need support. Simple determinations of whether or not some hazard needs to be addressed do not require specialists or experts. Such determinations are either quite obvious to the worker doing the job, or can be assessed using simple "rules of thumb".
Specialists and experts are only called in for the really tough problems where their training and expertise is needed – when the observation level techniques require further assistance to identify, assess and control particular hazardous situations.
This information is intended to provide tools for the early stages so that workplaces can address noise concerns efficiently and recognize when they require the support of specialists and experts.
NEW!
Noise-Induced Hearing Loss (NIHL) Audiogram Calculation Tool
OHCOW's Noise-Induced Hearing Loss (NIH) Audiogram Calculation Tool was designed to assess values based on the worker's audiogram to clarify if their NIHL meets the minimum requirement for establishing a NIHL claim with the Ontario Workplace Safety and Insurance Board (WSIB).
The NIHL Audiogram Calculation Tool allows anyone who has had an audiogram conducted, to input their results into the calculator to determine if those calculations fall within the criteria set out in the WSIB policy for NIHL # 16-01-04.

Noise Exposure Calculator
Developed by OHCOW, this tool can be used to calculate the following:
• the 8 hour equivalent sound exposure level as per the equation in O.Reg 381/15.
• the 8 hour equivalent sound exposure level for different noise levels and for specified lengths of exposure time.
• the amount of time it takes to reach either an equivalent 8-hr exposure or Lex,8 of 85 dB(A) (in yellow) or Lex,8 of 80 dB(A) (in green).
• roughly the amount of time it takes to reach either an equivalent 8-hr exposure (Lex,8) of 85 dB(A) or an Lex,8 of 80 dB(A).

Learn more about this calculator in the 2017 presentation by Todd Irick, M.Sc., CIH, OHCOW Occupational Hygienist
Preventing Noise-Induced Hearing Loss
Noise Apps
Based on reading some high quality evaluations of noise measuring cell phone apps, plus some of our own experimentation with such apps,
we've come up with a short list of apps that we're confident are the most accurate*.
*For some very "sound" reasons, noise measurement apps on the iPhone are generally more reliable than Android.
We also offer some suggestions for Android apps included in the list above but if you have a choice between types of phones,
we recommend using the apps designed for iPhones.
There are a lot of unreliable noise measurement apps out there, so
"Buyer Beware!" 
Some additional noise-related tools/apps include:
Online Hearing Test
with Audiogram Printout
One of the easiest, fastest, and best hearing tests on the Internet. Bookmark this page and run this hearing test periodically to monitor your hearing!
RevMeter Pro
RevMeter Pro measures the reverberation time of a room. Reverberation is the prolongation of sound
by Matthias Schorer
WBV
by Byte Works
Whole-body vibration refers to the vibration transmitted to the human body whilst supported by a vibrating surface.
NEW INFOGRAPHICS NOW AVAILABLE
PRESENTATIONS
The following presentations made by OHCOW representatives provided detailed background information for detecting and dealing with noise issues in the workplace:
5 Steps for Doing Something About Noise
April 2018
A webinar presented by John Oudyk
This webinar would be of interest to anyone involved in preventing noise exposure in the workplace (exposed workers, joint-health and safety committee members or health and safety representatives, supervisors and employers). In it, John discusses the following:
Step 1:
Deciding if the noise is too loud

Step 2:
Identifying and describing noise sources

Step 3:
Can we make it quieter considering controls?

Step 4:
Does everyone know this noise can affect their health?

Step 5:
Do the controls work?
The webinar was recorded by PSHSA and can be viewed from their website using the following button:

Additional noise-related presentations include:
From Our Partners, et al.