Medical Clinic Reso

urces for Migr

ant and
Temporary Agricultural Workers in Ontario
Clinics
The map below identifies clinics which have experience working with Migrant Farm Workers, also referred to as Temporary Foreign Agricultural Workers, or International Agricultural Workers. Most of these clinics have organized their services to be accessible to workers, with hours of service such as evenings or Sundays and are locations that workers can get to (such as a local church, shopping mall, health centre). There are nurses, doctors, translators and other staff to help facilitate care.
These clinics are for a health concern that is NOT an emergency (such as pain that is not getting better, symptoms that are bothering you (cough, rash), stress, depression or anxiety, or medication for chronic health problems such as diabetes or high blood pressure.

If the health concern is an emergency, or if you or someone else is seriously injured or sick (such as a hard time breathing, bleeding that will not stop, chest pain or discomfort lasting for two minutes or more; choking, coughing up or vomiting blood, loss of consciousness or difficulty arousing someone)  call 911.
Other Services

1. Telehealth Service through Ontario Health811
If a worker has difficulty finding or getting to a medical service location, they can call 811 on their phone. This service is free of charge, available 24 hours a day, seven days a week, and will connect them to a registered nurse who can provide health advice and information, or help find health additional service options close to the caller. This service is available in multiple languages. The caller can ask for the language they need.
2. Telehealth Service – Cowan (Cigna) Insurance for Workers from Mexico
Workers who have COWAN insurance (white card) have access to online medical services (doctor)
Call 1-800-243-1348
TeleHealth by Cigna
Speak with licensed doctors by phone — to discuss your symptoms and the best next steps for you.
You can schedule an appointment from anywhere, 24 hours a day in the language of your choice including Spanish.
You will need to provide your Member ID and Policy #
If you have a phone that is not from Canada, the 800 number may not work. If this is the case, call 613-741-3313. Choose option "4".  This will take the caller to Group Benefits
Access by calling 1.800.243.1348 or by downloading the Global Health Complete App.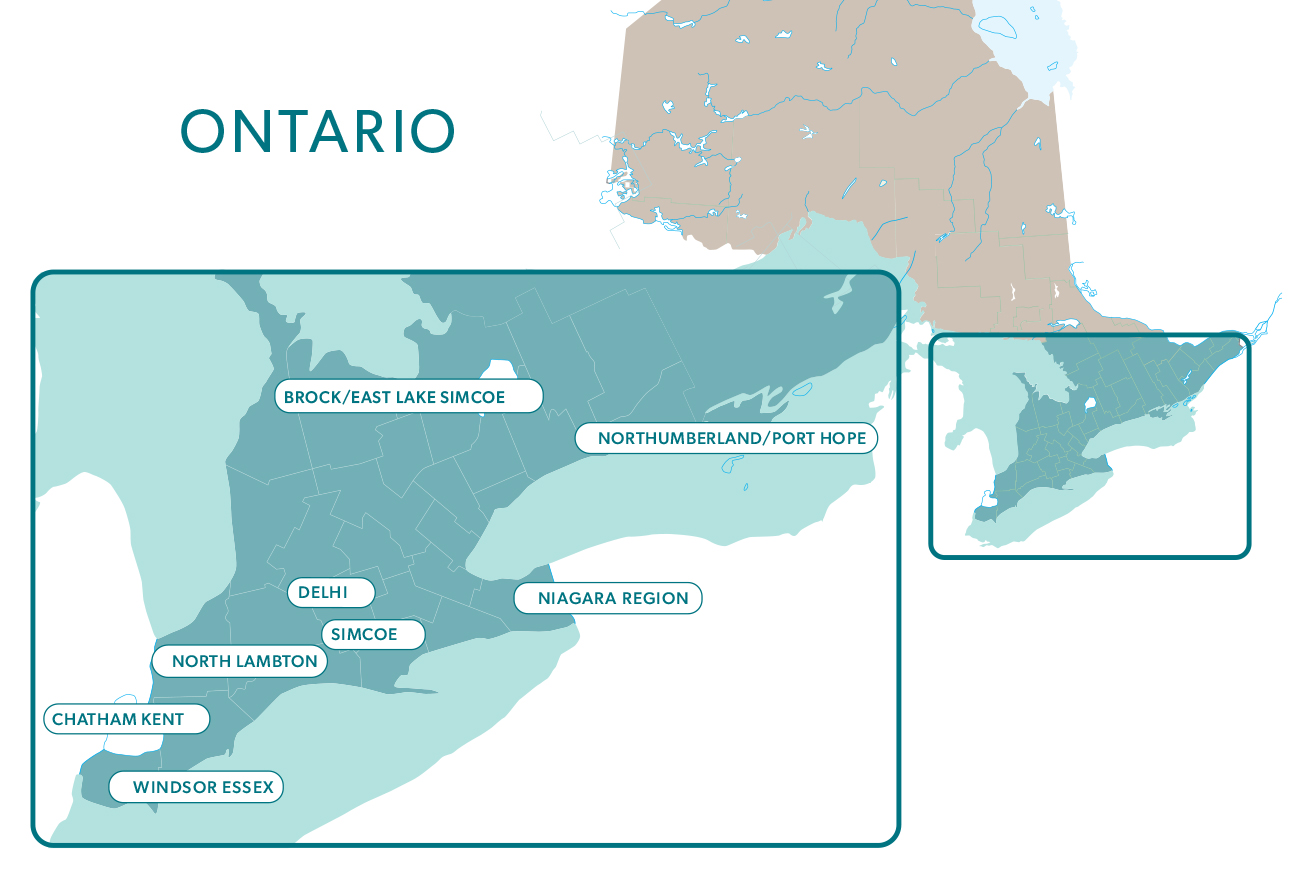 Provider Agency
Windsor Essex CHC Leamington Site
Type of service
Walk-in clinic for International Agricultural Workers
MFW Clinic location
33 Princess Avenue, Unit 450,
Leamington, ON N8H 5C5  View on map
Day & time of clinic
Sunday 10am – 5 pm
Worker Contact
Attend Sunday Clinic in person
OHIP 
Not required
Further details
No need to make an appointment but availability is limited.  Come early.
Multiple language service available
Website
 Windsor/Essex Community Health Centre
Agency contact
Laura Strathlee
 lstrathlee@wechc.org
Provider Agency

Mobile. Medical. Support. (MMS)

Type of service

Mobile walk-in healthcare clinic

Clinic location

Mobile throughout Windsor-Essex

Day & time of clinic

See Calendar for locations/times 

Worker Contact

Attend mobile Walk-in clinic
OHIP
Not required

Further details

FREE, open to all ages, OHIP/Insurance not required, translation services available

Poster available

English and Spanish

Agency contact

Danica McPhee (MMS Operations Manager)
Danica.McPhee@eshc.org
519-984-3683
Provider Agency
Erie Shores Family Health Team
Type of service
Walk in style after hours clinic for public
Clinic location
Day & time of clinic
As of May 31, no schedule for urgent care/walk in
Worker Contact
Walk in style clinic
OHIP
OHIP not required
Further details
Languages:
Poster available
English and Spanish
Website
Agency contact
Amanda Willms
Amanda.Willms@eshc.org
Provider Agency

Chatham Kent CHC (Community Health Centre)

Type of service

Primary care services at specific On-Farm locations
MFW walk-in
Clinic location & time

CKCHC office

150 Richmond St., Chatham View on map

Sunday 10am-4pm (no appointment needed)

On Farm Clinic
Locations
Greenhill Produce View on map

Truly Green Farms View on map

Peeters Mushroom Farm View on map

Serrka

Conagra View on map

Worker Contact

For on farm visits, please connect with your supervisor

Walk in clinic on Sunday – no appointment needed

Other inquiries: 519-397-5455 ext 219

OHIP
Not needed

Further details

Service offered in multiple languages

Website

CK Community Health Centres  (ckch.ca)

Agency contact

Mallory Nowakowski

519-397-5455 ext 219
Provider Agency

North Lambton Community Health Centre

Type of service

Health assessment by appointment (see contacts below)

Clinic locations

Forest

Kettle Point

Sarnia

Watford

Day & time




of clinic

3 days per week. Evening clinic on Tuesdays

Worker Contact

Andrea Jones-Peper

Spanish, English, French
519-786-4545 ext 224;

226-559-7424

Junior Mesta

Spanish, English
519-786-4545;
226-559-7838

Lisa Ash

519-786-4545 ext 301

OHIP
OHIP not required

Further details

An appointment will be made. Multiple language assistance available

Website

North Lambton Community Health Centre

Agency contact

Lisa Ash, Primary Care Lead
lash@nlchc.com
Provider Agency

Quest CHC (Community Health Centre)

Partner

Southridge Community Church

Type of service

Walk in style clinic

MFW Clinic location

Southridge Community Church

3970 Glendale Ave., Lincoln, ON.  View on map

Day & time of clinic

Every 2nd Sunday, 5:30 – 7:00 pm

Worker Contact

Jesslyn

English

905 687-2266

Moises Vazquez

English, Spanish

905-328-1546

OHIP
Not required

Further details

No appointment needed.  English

Website

Quest Community Health Centre

Agency contact

Moises Vasquez
mvasquez@questchc.ca
905-328-1546
Provider Agency

Quest CHC (Community Health Centre)

Partner

St. Alban's Church

Type of service

Walk in style clinic

MFW Clinic location

St. Alban's Church

4341 Ontario Street, Beamsville. View on map

Day & time of clinic

Every 2nd Thursday, 4:30-8:00 pm

Worker Contact

Moises Vazquez

Spanish, English
905-328-1546

OHIP
Not required

Further details

No appointment needed.  English, Spanish

Poster available

English and Spanish

Website

 Quest Community Health Centre

Agency contact

Moises Vasquez
mvasquez@questchc.ca
905-328-1546
Provider Agency

Quest CHC (Community Health Centre)

Partner

Cornerstone Church

Type of service

Walk in style

MFW Clinic location

Cornerstone Church

1570 Niagara Stone Rd, Virgil, ON. View on map

Day & time of clinic

Every 2nd Sunday, 3:30-7:00 pm

Worker Contact

Moises Vazquez

Spanish, English

905-328-1546

OHIP
No OHIP required

Further details

No appointment needed.

Poster available

 English   and  Spanish

Website

 Quest Community Health Centre

Agency contact

Moises Vasquez
mvasquez@questchc.ca
905-328-1546
Provider Agency

Welland McMaster Family Health Team

Partner

Fenwick United Church


Type of service

Walk in style OR
pre book an appointment: text Lauren at 905-321-0088

MFW Clinic location

Fenwick United Church

1050 Church Street, Fenwick, ON. View on map

Day & time of clinic

Every Sunday, 1:00-3:00 pm

Worker Contact

Lauren DeNapoli

(Spanish, English)

905-321-0088

OHIP
No OHIP required

Further details

No appointment needed.  English, Spanish

Poster available

English and Spanish

Website

Welland McMaster Family Health Team

Agency contact

Lauren DeNapoli
905-321-0088 (WhatsApp, call, text)
Provider Agency

Grand River CHC (Community Health Centre)

Partner

Simcoe Superstore

Type of service

Walk in style clinic

MFW Clinic location

Simcoe Superstore
125 Queensway Rd. East Simcoe.  View on map

Day & time of clinic

Thursday & Friday, 12pm-8pm

Worker Contact

519-732-6375
OHIP
OHIP not needed

Languages

English, Spanish

Further details

Virtual Care appointments available by request
On – Farm clinics by request

Website

Grand River Community Health Centre

Agency contact

Carly Watson

519 732 0777 ext 602

905 902 4684
Provider Agencies

Norfolk Family Health Team
Grand River CHC

Type of service

Walk in style clinic or make an appointment

MFW Clinic location

105 Main St.
Delhi ON  View on map

Day & time of clinic

Drop-in:
Tuesday, Wednesday and Thursday, 5:00 – 8:00 pm
Regular clinic hours Mon-Fri

Worker Contact

519 582-2323 ext 269
To request appointment with a translator in Delhi:(Spanish)
519 732-6375
OHIP
No OHIP necessary

Languages

Translation services

Needs to be requested unless a translator accompanies the worker to their appointment

Further details

IAW Program updates

Consult website, Facebook, Instagram page or call 519-582-2323 ext 269

Poster available

English

Website

Norfolk Family Health Team

Agency contact

Carly Watson
519-754-0777 ext. 602
Northumberland – Port Hope
Provider Agency

Community Health Centres of Northumberland

Partners

Horizons of Friendship Migrant Worker Outreach Program
TNO – Worker Support Services 

Type of service

Contact and an appointment will be made, see contacts below

MFW Clinic Location

Northumberland CHC
99 Toronto Road, Port Hope, ON   View on map

Day & time of clinic

n/a

Worker Contact

Daniel Queseda

Spanish, English

416-475-2627

Megan Botha

289-251-2810

OHIP
OHIP not needed

Further details

 Access to translation services

Website

Agency contact

Megan Botha (Horizon)
mbotha@horizons.ca
Brock – East Lake Simcoe Area
Provider Agency

Brock CHC

Type of service

Phone contact and appointment if needed

MFW Clinic location

Cannington

64 Cameron St. E.  View on map

Beaverton

468 Main St. E.  View on map

Day & time of clinic

Assessment by appointment only
Clinics 3 evenings a week.

Worker Contact

705-879-5524 – leave a message for a return call
OHIP
Not needed

Further details

Transportation may be provided

Website

Brock Community Health Centre

Agency contact

Loretta Fernandez Heaslip
lfheaslip@brockchc.ca