Computer Mouse Size Calculator
Measuring instructions and comparison chart to assist you in determining proper sizing for a computer mouse
Using the proper sized computer mouse is an important step in preventing injuries.
The correct mouse size will help to reduce awkward postures and contact stress on the hand and wrist.
The one-size-fits-all approach for computer mice does not work when you're dealing with a diverse work force.
Follow these two simple steps to determine the best size of computer mouse for you:
Rest your hand on a flat surface.
Measure from the tip of the middle finger to the first crease of the wrist to determine hand length.
Record the measurement.
Compare the measurement taken above to the table below.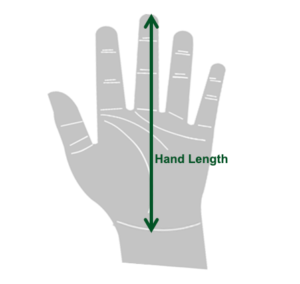 Mouse Size Determination Chart
HAND SIZE
CLASSIFICATION
MOUSE SIZE
Imperial (Inches)
Metric (mm)
Imperial (Inches)
Metric (mm)
< 6.3
< 160
Extra Small (XS)
< 4.4
< 113
6.3 to 6.8
160 to 172.7
Small (S)
4.4
113
6.8 to 7.7
172.8 to 195.7
Medium (M)
4.8
122.5
7.7 to 8.4
195.7 to 213.5
Large (L)
5
127.8
> 8.4
> 213.6
Extra Large (XL)
> 5.0
127.8