StressAssess - Finalist in worldwide Adobe Government Creativity Awards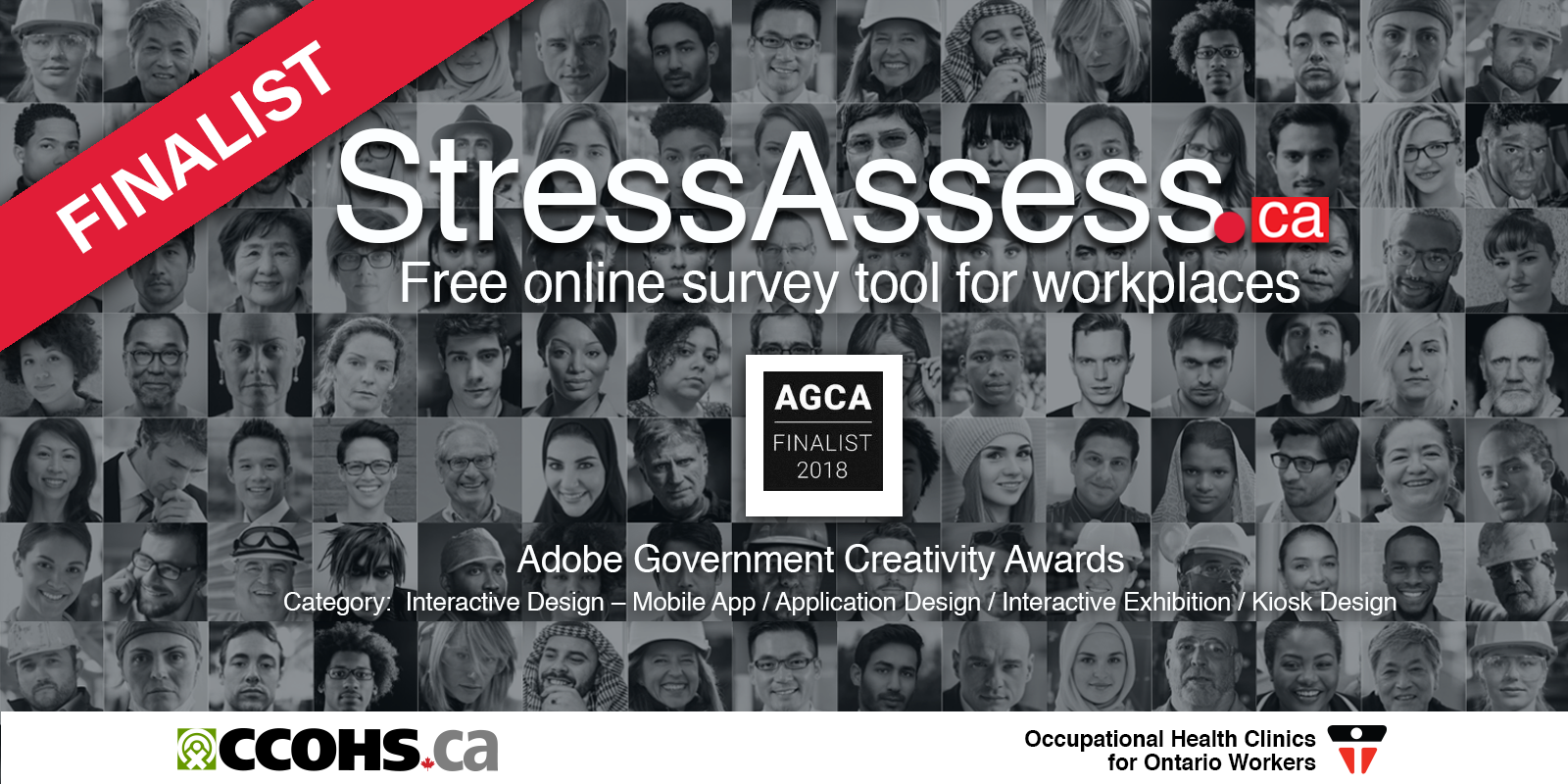 StressAssess, OHCOW's new Workplace Psychosocial Survey Tool which was developed in partnership with the Canadian Centre for Occupational Health and Safety (CCOHS), has been selected as a finalist in the worldwide Adobe Government Creativity Awards. This is an international competition garnering 488 submissions, and it is a fantastic achievement to have our collective creativity and design efforts recognized. https://adobecreativityawards.com/?news=d7de435f-e888-47b2-a04d-f8dbb69904b1 (The category is the first one listed after the video)
A big THANK YOU to Lesley Scime from CCOHS who is the lead designer, plus she took the initiative to prepare an excellent submission. The StressAssess site was selected as one of three finalists in the Mobile App/Application Design / Interactive Exhibition / Kiosk Design category.
The judges comments include "The overall concept and execution are excellent" and suggested improvement was "Taking the app worldwide." Do your part, and spread the word:
StressAssess is a free, evidence-based online survey tool designed to assist workplaces in identifying psychosocial hazards that can lead to stress and mental injury, providing suggestions and pathways to address them, thus preventing harm. It is simple to use, fosters a team approach, and includes a Wizard to support preparation, implementation and subsequent problem solving. StressAssess is particularly timely given recent recognition of chronic mental stress as compensable, plus, reducing stress and promoting Workplace Mental Health is good business on many levels.
CONGRATULATIONS to the CREATIVE TEAM:
Manager: Alan Powell
Project Leader: Susan Freeman
Form/Function Designer: Lesley Scime
Programmers: Web – Brian Conroy, Oleg Kremianski | App – Pooya Mohammadhossein
Writing and Promotion: Krista Travers, Lesley Scime
from CCOHS and
Content & Functionality: John Oudyk
Support & Review: Valerie Wolfe
from OHCOW
For more information, visit stressassess.ca today.