National Dialogue on COVID-19
OHCOW contributes to National Dialogue on COVID-19 Science and Healthcare Worker Protection
OHCOW hygienists John Oudyk and Kevin Hedges participated in a national Best Brains Exchange about transmission science and worker protection hosted by federal health and research agencies last week. See John's powerful October 1st presentation (as slides or a recording) comparing practices and cases in Canada vs China, recognizing the differing (and entrenched) scientific perspectives, but reiterating the significant and egregious impact on Canadian Healthcare workers, and reminding everyone that it is all our ("general") duty to take every precaution ("reasonable") to protect every worker!
John also contributed a chapter to the recently released Investigation into A Time of Fear: How Canada Failed Health Workers and Mismanaged COVID-19 by SARS Commission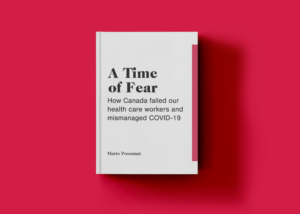 The report details Canada's systemic preventable failure to adequately prepare and urgently respond to the gravest public health emergency in a century.
The independent investigation was commissioned by the Canadian Federation of Nurses Unions and conducted by Mario Possamai, former senior advisor to the Ontario SARS Commission.
The findings highlight major flaws in the Canada's approach to public health, and a dangerous and irresponsible outlook on worker safety in response to the pandemic. Canada has more COVID-19 cases and deaths than China, Hong Kong and Taiwan – Canada's peers in experiencing SARS – combined.
The report makes 50 recommendations to improve worker and public safety and to enhance transparency and accountability. Among the recommendations are urgent measures that enshrine a precautionary approach in Canada's pandemic response.
The full report is also available at www.ATimeofFear.ca.
For more information about COVID-19 and its prevention visit our dedicated Resources page or for answers to a specific question, send an inquiry to ask@ohcow.on.ca